Library staff have implemented a new online course reserve system to support this fall's diversity of teaching modalities and need for digital-only reserve materials. The system provides easy access on any device to text and audio visual course resources (including library e-content, web-content and faculty-uploaded material) through Moodle, a direct link in a syllabus, or the library reserve page.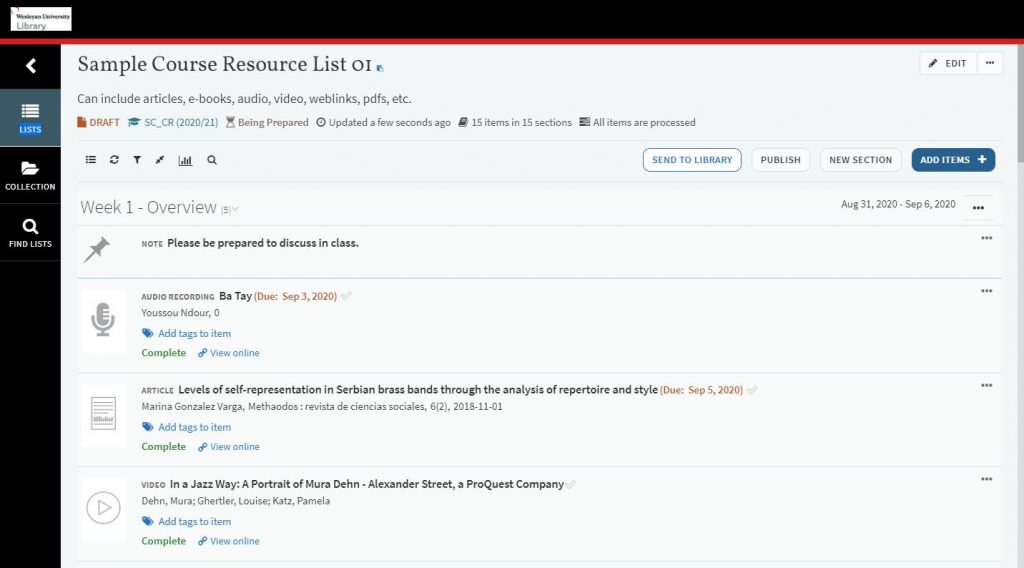 Course reserve resource lists are already being prepared for faculty who have submitted requests — you just need to enable the link in Moodle or provide a link to students. 
Faculty can place materials on reserve throughout the semester, so we encourage you to take advantage of this new system.  Either submit a course reserve request form or be an early adopter and create a list yourself.  
To learn more, attend a workshop on Thursday, Aug 20 at 2:00 pm 
https://wesleyan.zoom.us/j/92679324117?pwd=ZUZSNitBL2lodGJTV1Riby92dDJQdz09
Password: Leganto20
The system is designed to be user-friendly — let us know what you think.
Contact reserve@wesleyan.edu or your library liaison with any questions.  
———————————————————————-
Powerful new course reserve features that can benefit you and your students
Organize resource lists by week or topic and add due dates and notes

Drag and drop library materials directly onto lists

Easily add material from library databases and other websites

Upload files

Reuse lists for future courses

Create non-course lists

Collaborate with colleagues on lists 

Use analytics to track which resources have been most used by students

Allow teaching assistants to add resources 

Enable discussion
Especially for students
Access online course resources in one place from any device

Track due dates and resources completed

Keep private notes on materials

Suggest readings to instructors and comment on readings

Create resource lists of their own

Potentially save money by using more library provided resources vs. purchasing textbooks  
Click here for a video introduction with accompanying slides.