Wesleyan's Davison Art Center has an extensive collection of prints by British artist and satirist William Hogarth (1697–1764). Hogarth's prints are visually complex, with each intricate detail a pointed commentary on eighteenth-century British society. Hogarth's frank and bawdy prints were often produced in series and can be read both as a history of British society as well as examples of fine art.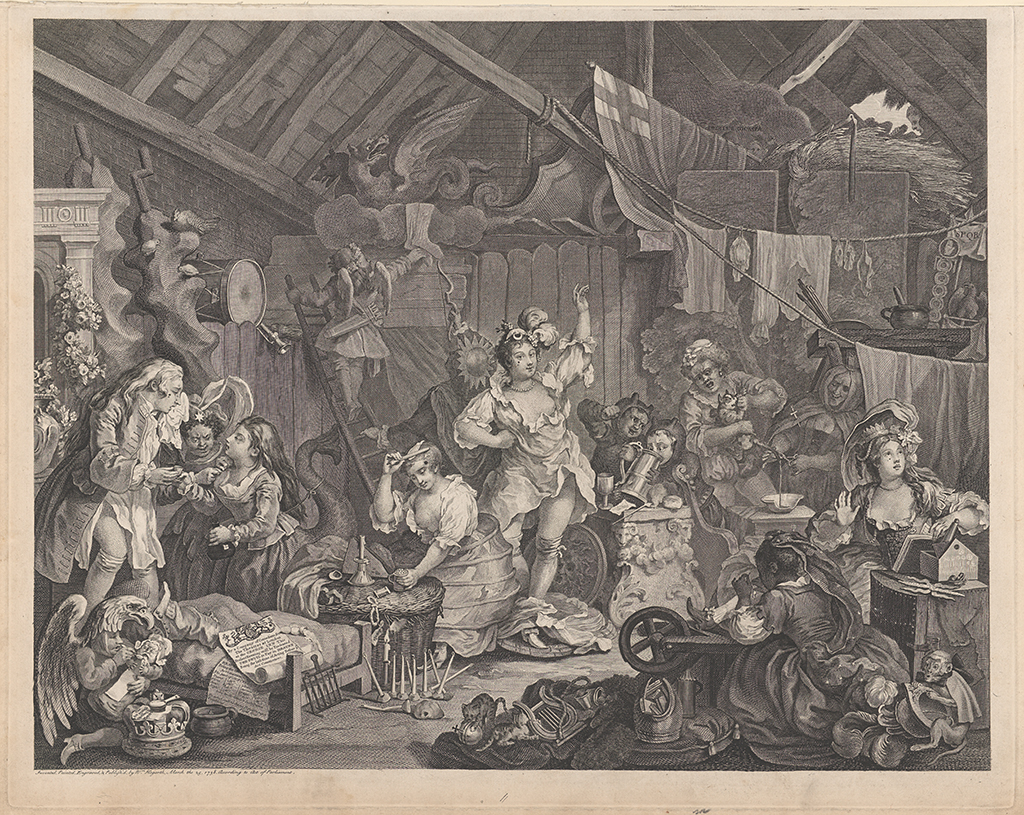 Strolling Actresses Dressing in a Barn is a protest of the Licensing Act of 1737, which gave the British government the power to censor theatrical productions. The government limited approved productions mainly to Shakespeare's works and sentimental, domestic plays. Non-patented theaters and roving troupes were closed down. To visualize his critique, Hogarth depicts actresses dressed as classical goddesses for a play that, quite obviously, did not meet the standards of propriety of the 1737 act. To express the poor conditions that troupes had to endure, Hogarth juxtaposes the fanciful costumes and set decorations of a classical play with a ramshackle barn, complete with hanging laundry and a broken roof.
A zoomable version of this print, along with many other of Hogarth's works, are available in the Davison Art Center's online collection. In this print, entertaining details include the ethereal classical costumes of the women, kittens in the foreground, and the black spots indicating syphilis on some of the young actors and actresses.
We invite you to explore the marvelous details of this print in the high quality image, which can be found here: http://dac-collection.wesleyan.edu/obj7082
—Riley Richards '21, Jim Dine Curatorial Intern at the Davison Art Center