I have always been astonished at the beautiful, colorful Ukiyo-e prints in the Davison Art Center's collection. Ukiyo-e prints, or "pictures from the floating world," were produced during the Edo Period in Japan (1603–1868 CE). Utagawa Yoshitora (1798–1861) worked during the late Edo Period and is known for his vivid imagination and his eclectic depictions of typical late Edo subjects.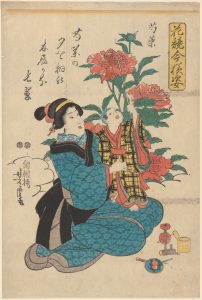 While this print is quieter than some of Yoshitora's more monumental works, it demonstrates his great skill and creativity in printmaking through its minute details. Most interesting to me is Yoshitora's juxtaposition of textile patterns in the clothing of the woman and child. Yoshitora often incorporated vibrant textiles in his compositions. He was perhaps inspired by his father's work as a textile pattern designer, and he assisted in his father in this trade during his youth.
The contrast between the figures' garments is striking. The juxtaposition of the subtle blue floral pattern and the yellow tartan introduces a lively element to this otherwise subdued subject. Flowers, like the peonies in this picture, are a motif typically associated with feminine subjects in Edo Period art, and therefore are an appropriate embellishment in this depiction of a mother and child.
A zoomable and downloadable version of this vibrant print is available for exploration on the Davison Art Center's online collection here.
—Riley Richards '21, Jim Dine Curatorial Intern at the Davison Art Center