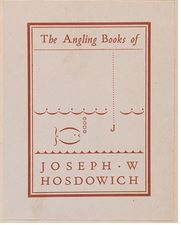 Joseph Waldo Hosdowich (1898-1972), Wesleyan University, class of 1921, served in the First World War and had a decades-long career as a sales executive at the International Silver Company in Meriden, CT.
He donated the Angling collection to the Special Collections library in the 1960s, shortly after retiring. His collection suggests a lifelong love of fishing, but also an avid interest in publishing, editing, and the physical art of bookmaking. One doesn't, after all, need 169 books about fishing to be a good fisherman. The Angling Collection, then, speaks to not only a love of fishing as an activity, but also an interest in the intellectual and even philosophical implications of the hobby.
The collection showcases a wide range of approaches to angling. Some books are encyclopedias of fly and lure varieties, with pricey color engravings and meticulous descriptions of when and where and how each should be used.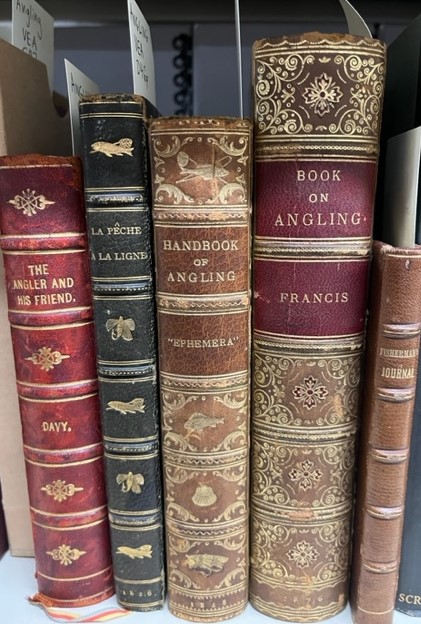 Others are of a more artistic variety: books of songs to sing while fishing, personal essays on the life of an angler, or stories of the characters encountered on the banks of North America's frigid rivers. There are some utilitarian books of wisdom, published correspondences between experienced anglers for the purpose of educating the greener, and maps and charts showing the ideal fishing spots, but the collection also comprises songbooks, poetry anthologies, and finely illustrated manuscripts.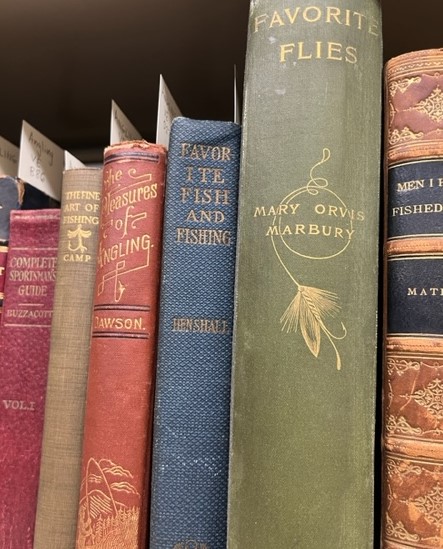 They're mostly written by men—a notable exception to this rule is what can perhaps be called an "epistolary encyclopedia", which recounts the letters to Mary Orvis Marbury's husband about the sport, anthologized and organized by Mary in the 1880s.
One must hesitate when ascribing too much meaning to the works. In preparing this blog post, we both spent hours pondering the general implications of angling and the implications of our collection—what could this slice of North Americana could tell us about nature, humanity, hierarchy, egalitarianism, sexism, Empire, Republic? What judgments could we pass on the pastime? The thoughts behind the deeds? The war and the peace?
We don't really know, and we still don't really know. We do recommend you come by and give the collection a look, though— you'll probably catch something we missed.
–Jack Frederick Donald Stewart, Class of 2023 and Ella Tierney, Class of 2023