The World Music Archives/Music Library is hosting two fun events in Olin Library this week around the theme of experimental arts and new media:
(1) Politics, Bleeps, and Bloops with the Election Profit Makers
Thursday, September 14th 7:00 PM (doors open 6:30)
Smith Reading Room, Olin Memorial Library
Join David Rees (Get Your War On, Going Deep with David Rees) and Jon Kimball, hosts of the indie podcast Election Profit Makers, for a discussion of political prediction markets, field recording, tinnitus, Geoguessr and Google Earth, and maybe some other things.*
*Other things, as in, an audio quiz on the history of noise music. With prizes!
Election Profit Makers is a podcast… but also maybe a long-running performance art piece about the podcasting medium? Come find out!
Space is limited, RSVP required:
https://forms.gle/D1ygriBHgy23AZa7A
(2) between systems and grounds: Chapter Three Part I
Saturday, September 16, 2023, 12:00 PM – 3:00 PM
Second Floor Balcony, Olin Library, 252 Church Street
between systems and grounds is a collaborative, durational performance and installation project by Professor of Music Paula Matthusen and visual artist Olivia Valentine that creates a feedback loop between textile construction processes and feedback-based live electronic music.
No RSVP necessary! Drop by for as long as you like to experience this work as it unfolds.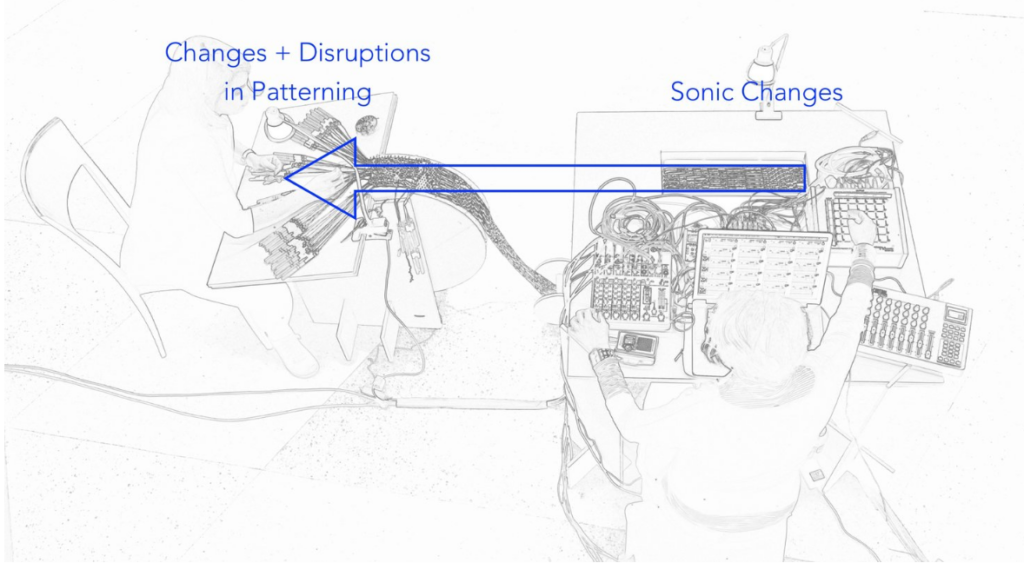 Also, check out the exhibits of between systems and grounds' previous works throughout Olin, as well as other fiber arts materials. These exhibits will be up between this performance and the return of between systems and grounds for Part II on October 12th.
Both events are sponsored by the World Music Archives and Music Library. The first event is also sponsored by the Apple Pickers Foundation.
These events are part of a series of experimental arts events happening in the Library and elsewhere on campus this fall, including a residency of experimental composer Nicolas Collins '76, MA '79, hosted by the Music Department.