We are pleased to share the library's 2023 winter update on our work towards a more just library, campus, and world. We welcome your questions, suggestions, and collaborations as we continue this crucial work.  Access the library's DEIJ web page here.
— Andrew White, University Librarian
Winter 2023 DEIJ Update
Building on the progress the library has made so far and its commitment to further transformation, the library is planning to incorporate equity action items directly into staff annual goals and the staff review process in the coming academic year. This will allow the library to more clearly embed the library's ongoing efforts to provide equitable resources and spaces into staff workflows and interactions and plan for the time and effort required for these efforts. The library has also continued to support staff professional development and collaborations to bring impactful learning about DEI strategies back into the library to further enhance our initiatives, for example, through workshops, webinars, and discussion groups. We have been especially energized by our collaboration with the Center for the Arts' Embodying Antiracism Initiative this winter. Generative conversations with EAI faculty, students, and community members have created new relationships, strengthened existing ones, and opened up new avenues for partnerships. We were delighted to host a reading and exhibit by EAI fellow Barbara McClane on February 24, 2023 in Olin's Smith Reading Room and look forward to welcoming the "Power of We" Summer Leadership Institute, a partnership with Urban Bush Women, Junebug Productions, and The People's Institute for Survival and Beyond, in June 2023. Finally, as a tangible ongoing contribution to the community, the Library is participating in the Amazing Grace Sponsor our Shelves program, committing to donate at least 100 of the most needed food items each month to help the local food pantry serve families facing food insecurity.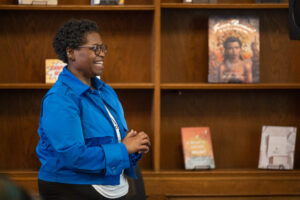 The library's five Equity and Justice teams charged with working to improve specific equity areas have been invigorated by enthusiastic additions from the library's newest staff members. Highlights of the teams' work in the past months include the following:
Team A (Library environment) has been enhancing communication channels with students and faculty about exhibition policies to increase clarity and transparency and reduce barriers. They will post the finalized policies on the library website shortly. In addition, the team is working on an overall calendar of exhibition spaces to make it easier to schedule student and class exhibits.
Team B (Library Collections) is continuing an evaluation of collection policies through the lens of diversity and inclusion and examining how to best to share this information on the library website.
Team C (Cataloging and Metadata) has been focusing most recently on 1) incorporating subject terminology from the Homosaurus (an international linked data vocabulary of Lesbian, Gay, Bisexual, Transgender, and Queer (LGBTQ) terms) into relevant catalog records, and 2) writing both a public-facing statement about bias in metadata and an internal-facing policy document that all of the library collections can refer to.
Team D (Hiring and Retention) has 1) updated the library's Hiring Guidelines, 2) explored establishing an internship program, which they hope to pilot next year, and 3) continued to support new staff members through their staff ambassador program.
Team E (Staff Conversations and Organizational Development) has revised outward facing policies on the library website to make the language clearer and more welcoming and reduce barriers for users, especially visitors, in accessing the library. The team is exploring ways of incorporating more input from the library's stakeholders, especially students and faculty.