Folks,
I'm pleased to share updates from the Wesleyan Library on our work towards a more just library, campus, and world.
We welcome your questions, suggestions, and collaborations as we continue this crucial work.
— Andrew White, University Librarian
Team A – Walls of the Library
Team A has been working on a few different projects over the past few months. First, we are contextualizing the presidential portraits hanging in Olin Library and critically looking at what other portraits should remain hanging or be moved to storage. A student is creating short biographies to be displayed next to each president's portrait. In the coming months we will be adding new portraits of presidents William Chase and Douglas Bennet and will be moving all the portraits to be in chronological order. 
Additionally, in the Science Library we're working on adding some color and fun into the stairwells. With help from Shawn Lopez in the IDEAS Lab we'll be adding color and spelling out Wesleyan on the step risers (see image 1 below). You'll also see a new version of a cardinal studying which was first used in the 1952 Olla Podrida yearbook on the top stair (image 2). To go along with the steps, we've combed the archives for some photographs showcasing Wesleyan's love of dogs and furry friends. These will be added to the landing along with a way for students to share their own pictures with the library and copies of the images will be readily available for anyone that wants them.  — Team leader: Amanda Nelson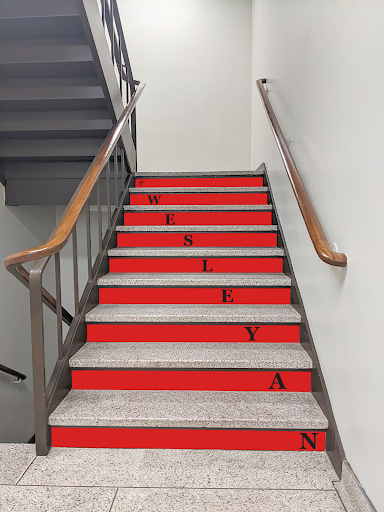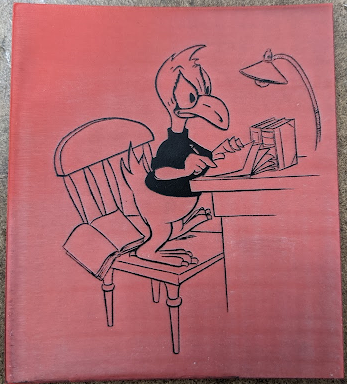 Team B – Collections
The DEIJ-Collections Team is the largest of the library's equity and social justice teams, as it represents more than 10 collections managed by Olin Library. Owing to the diversity of our collections, our charter is necessarily broad – it seeks to interrogate the content of our collections as well as the practices we use to care for and manage them. Over the past year, we have each established DEIJ goals for our respective collection areas. They range from issues of equitable accessibility to the surfacing of silenced or marginalized collections in class visits and through social media. Some highlights from the past year of our progress include:
We meet on a quarterly basis, and members of this committee continue to be a source of collaboration, accountability, and inspiration for each other when it comes to making the library's collections more inclusive and our management practices more ethical. Meetings in 2022 will be built around specific themes, including making our collections spaces more accessible, and looking for opportunities for cross-campus collaborations in DEIJ work.  — Team leaders: Erin Bradford and Wendi Field Murray
Team C – Interrogating Cataloging and Description
In November, we finally completed the behind-the-scenes coding in OneSearch so that the LC Subject Heading "Illegal aliens" and all of its related variants now display as "Undocumented immigrants." 
There are a couple of important things to note about this change, though:
It only changes the field that contains LC subject headings.  If the terms "Illegal aliens" exist in a title or a table of contents, they will still appear as is in OneSearch.

The behind-the-scenes coding changes any record coming into OneSearch from our Alma catalog (both physical and electronic), but does not change records that come from Ex Libris's Central Discovery Index (CDI). 

Since the underlying MARC record still contains the phrase "Illegal aliens," that phrase works better for finding more search results.  
Ironically enough, the Library of Congress finally decided this November, after many years of advocacy from various constituents, to change their authorized term.  There is an article in American Libraries Magazine about the change.  Although the change is very welcome, there is also some criticism of the terms they decided to change it to (a combination of "noncitizens" and "illegal immigration"), especially the continued use of the word "illegal."  The change has already started appearing in OCLC and in various authority record management systems, including Ex Libris's authority file that we use in Alma, but it is moving slowly and not complete yet.
In other news, we have made changes to subject headings for some materials related to drag queens, drag kings, and drag balls, now that all three phrases have been approved as LC subject headings.
Finally, the committee plans to collaborate with Access Services staff and Lori Stethers in the spring, in creating a patron feedback form for OneSearch results for physical materials.  The form will allow patrons to report several different kinds of problems, such as a book missing from the shelf, a book mislabeled, and so on, but will hopefully also provide a way patrons can give us feedback on terminology in subject headings.  Providing context and clear wording about what we want feedback on will be important in that process. — Team leader: Rebecca McCallum
Team D – Improving Our Hiring & Retention Practices
The work of Team D: Improving Our Hiring & Retention Practices, is accomplished by three subgroups. These were formed to isolate and emphasize solutions for hiring and ensuring the success of a diverse staff. The first subgroup developed Hiring Recommendation. These will next be reviewed and streamlined so that staff can easily employ them in tandem with H.R. and other library guidelines. The second subgroup's work focused on Growth & Retention. This group conceptualized an Ambassador program to provide newly hired staff with support and guidance from the point of hire until  a time, if and when, the new staff no longer needs the support. The Ambassador, appointed from outside the supervisory line, provides information and consult about the climate and amenities of the Library, Wesleyan University, and the surrounding areas. The Ambassador program is fully implemented; the two most recently hired library staff have been partnered with Ambassadors. Team D's third  group focused on Internships. Due to the lack of ethnic and racial diversity in the library field, internships are seen as a way to bring more diversity into the library. The Internship subgroup drafted a framework for a program that can be offered to current library school students wishing to complete their practicum or to Wesleyan students. The next challenge is to get the word out so we can connect candidates with opportunities. We also need to ensure that student interns receive the support they need so that their skills and talents are able to flourish. — Team leader: Jill Livingston
Team E – Staff Conversations
Team E continues to amplify the work of the equity teams by convening team leaders quarterly to facilitate communication and collaboration across all our efforts and by sharing outcomes with the university community.  The team is beginning to  assess the library website through a DEIJ lens and as a way to share our values and policies transparently.  Team E is also customizing an academic library Racial Equity curriculum for Wesleyan library staff that was devised at the University of North Carolina Chapel Hill.  Staff will be able to use this resource to increase their knowledge of racial equity issues and look for practical solutions as we work to make our policies and practices more equitable.  Team E member, Jennifer Hadley, has taken on the role of Program Coordinator for the library's  DEIJ initiatives for two years to accelerate and deepen our progress in this area.  Please contact her if you have any suggestions for the library. — Team leader: Andrew White
Image credit: University of Florida