On Wednesday, February 8, 2023 at 7:00 pm, join Marvin McNeill (Wesleyan alum and Assistant Professor of Music and African American Studies, Emory University) and New Orleans musician Edward "Juicey" Jackson in a virtual screening of the hour-long documentary From the Mouthpiece on Back, about the TBC (To Be Continued) Brass Band from New Orleans before and after Hurricane Katrina. The screening will be followed by a discussion about music, climate change, housing inequity, and gentrification in New Orleans and the impact of Hurricanes Katrina and Ida.
Attend in person to watch the event as a community in the Music Library Seminar Room (Olin 327B) (in person space is limited, RSVP here), or attend virtually by Zoom. Organized by the World Music Archives, Wesleyan University Library. For more information, email wma@wesleyan.edu.
This event is part of Wesleyan's Black History Month calendar.  We thank the BHM Committee for their support!
Check out clips from the TBC Brass Band here.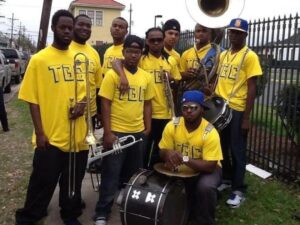 PROFILES
Marvin McNeill is a Ph.D. candidate in ethnomusicology at Wesleyan University. Currently, Marvin serves as an Assistant Professor of Music and African American Studies at the Oxford College of Emory University in Atlanta, GA. After serving 20 years as a collegiate band director – most recently serving 16 years as the associate director and chief arranger for the "Pride of Connecticut" the University of Connecticut Marching Band – Marvin returned to school as a student to pursue and expand upon personal scholarly interests and passions. His research interests include African American folk and popular music traditions, with particular attention on the Black New Orleans brass band and HBCU marching band history and culture. Additional research interests include youth culture studies, community and social bonding studies, and affect theory. Marvin is the founding member of The Funky Dawgz Brass Band, a New Orleans style Brass Band that has toured nationally and internationally. Marvin was awarded the 2021 Global South Fellowship from the New Orleans Center for the Gulf South at Tulane University in support of his research project on the New Orleans brass band: To Be Continued Brass Band. He was recently awarded the Gertrude Rivers Robinson Travel Award for the annual Society for Ethnomusicology Meeting.
Edward Joseph Jackson III, also known to the world as "Juicey," is an American jazz trombonist, composer, educator, and ambassador of New Orleans culture. Born and raised in the 9th Ward of New Orleans, Louisiana, Juicey has been cultivated in the rich music tradition for over 20 years. He has attained multiple Grammy nominations and has toured the world, appearing in films and passing his musical knowledge on to the next generation. Juicey is a pillar and pioneer of New Orleans music expression today. His compositions, arrangements, and performances have inspired so many worldwide. Juicey is a product of the legendary McDonogh 15 Elementary School. He began his formal education at six and was writing and composing for the school band by age 10. Quincy Jones and the legendary New Orleans trombonist Keith 'Wolfe' Anderson (Rebirth Brass Band) were his most significant musical influences growing up.  Juicey, alongside a few of his buddies from the school band, helped birth the Grammy-nominated, To Be Continued Brass Band at the encouragement and guidance of one of the older students. The quality, power, creativeness, standard, and work ethic of the To Be Continued Brass Band, affectionately known as TBC, helped to pave the way for the younger generation of New Orleans brass band musicians that followed. Juicey attended Southern University in Baton Rouge, Louisiana, and was a member of the world-renowned "Human Jukebox" Marching Band. A stand-out member of this legendary band, Juicey was selected as a trombone soloist, performing in PJ Morton's music video, "True Southern Girl," which features legendary female rap artist Mia X. Juicey has performed across hundreds of stages, including Lincoln Center, The Apollo, and 85 South. Performing and touring around the world with the To Be Continued Brass Band and The Hot 8 Brass Band, Juicey has crisscrossed the United States and has performed in such countries as New Zealand, Madrid, Barcelona, Ibiza, Amsterdam, Dominican Republic, and Holland. During his travels, Juicey has played alongside such artists as Ms. Lauryn Hill, Most Def, Harry Connick Jr., Cha Wa, Isaac Eady, The New Breed Brass Band, James Andrews, Paul Sanchez, UK artist Celeste, and the "World Famous Tony Williams." Juicey's television and film appearances include the HBO Series "TREME," the British documentary, "One Note at a Time," and the multi-award-winning documentary, "From the Mouth Piece on Back." Juicey appears on three TBC audio recordings, a self-proclaimed mixtape entitled "Finding Forever" and his latest album release, "Show 'Em I Love It" (2021). In addition to his busy performance schedule, Juicey has taught foreign exchange students to play instruments, has passed down his knowledge at The Roots Music after-school music program, and has taught in one of the "toughest job situations," The Travis Hill School of Music within the local jail in New Orleans. Edward 'Juicey' Jackson III is a musical genius. He reaches across a variety of music genres, all the while keeping the New Orleans culture at the center. Juicey continues to be inspired and inspires audiences of all ages. Juicey's oft-quoted mantra is "a listener and learner from 2-72."  He began as a drummer, fell in love with the trombone, then acquired skill and proficiency on every brass instrument. Edward "Juicey" Jackson is a vital cultural bearer of the rich and legendary New Orleans brass band tradition. "True passion comes from what you see, hear, and feel."  —Edward "Juicey" Jackson.