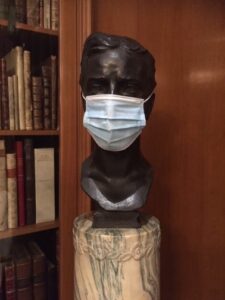 During the COVID-19 pandemic, Special Collections & Archives is open by appointment only. We will be open by appointment when allowed by the Current Alert Level on campus and when the library is open. Please check the Today's Hours section on our homepage for up to date information. At this time, the Wesleyan campus is closed to outside visitors. We are available for online reference and research support for the Wesleyan community as well as outside researchers.
Our Collections
We have a broad range of collections that take the form of rare books, archival collections, artists' books, digital materials, maps, ephemera, posters, and local history.
SC&A is also the home of the University's archives where documents, photographs, publications, and all types of items detailing the history of Wesleyan since its founding in 1831.
Research
We are here to introduce our resources and assist you with your research paper, thesis or book. Is this your first experience in researching rare books & archives and not sure where to start?
A good place to start is to search the Library's OneSearch where you can find a majority of our non-circulating rare books and archival collections. Please do remember, not all of our collections are found in the on-line catalog as some may not be fully cataloged or described. More details are on the research page of our website  and we encourage you to contact the SC&A staff for help in finding research materials.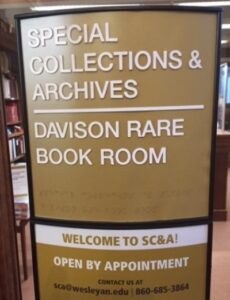 The materials in SC&A do not circulate and are only available for research in our reading room by appointment (see above).
Please do not hesitate to contact the SC&A staff with your questions or to book an appointment.
Our email address: sca@wesleyan.edu
Phone: (860) 685-3864
Once you have made an appointment, please click on and view the SC&A General Rules on our Using the Collections webpage.
We also recommend viewing What Can I Bring into the Reading Room? on the same webpage to know ahead of time what is allowed and not allowed to bring into the reading room.
However, if you do not have a chance to do so, we will send a list of guidelines to you when we confirm your appointment. These guidelines are measures we have in place for everyone's safety, such as the wearing of masks and social distancing. It will also serve as a reminder of the rules we ask you to follow for the protection of the materials as with the washing of hands before handling the research materials.
Spaces and Facilities in Special Collections & Archives

We also want you to know there is more to SC&A than just our collections!
In addition to answering reference questions, we offer Personal Research Sessions for Wesleyan faculty and students.
We also work with the faculty to teach class sessions across many disciplines with the collections of Special Collections & Archives in a wide range of remote learning class exercises, creative projects, and semester long projects to name a few.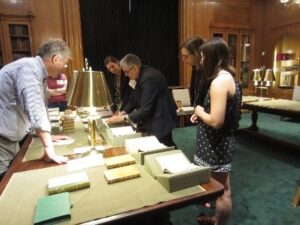 We also look forward to the times when we can again   host events, open houses, and exhibitions during Homecoming/Family Weekend, Reunion/Commencement, and throughout the year in SC&A.
If you would like to learn more, we have posted a short video in the Library's Libguides to introduce our collections and our services.
We look forward to hearing from you!
— Maggie Long, Special Collections Cataloging Librarian, and SC&A staff